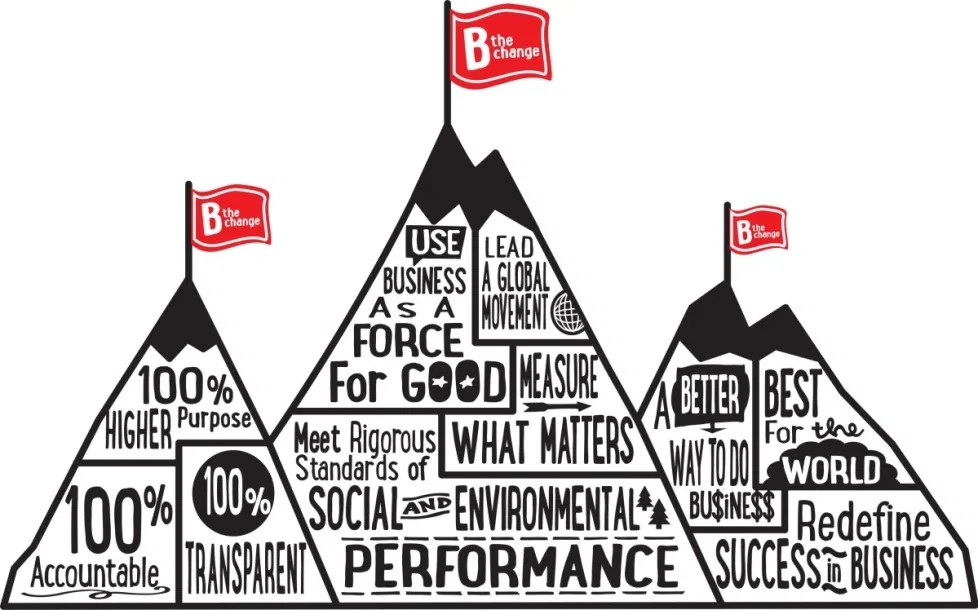 What does it take to become the "most responsible business" in Australia? Who holds the "title"? And how on earth would you judge it? There are all sorts of ways to be responsible. In order to compare not-so rotten apples, here's a look at the top 5 responsible businesses according to the scores they achieved in the B Corp Assessment and certification process.
Being a high scoring B Corp isn't the only way to demonstrate social responsibility but it is a pretty good one. The idea behind it is that businesses need to demonstrate their social, environmental and economic impact. This contributes to enhancing their standing in the community, building their reputation and all the while doing some good. By undertaking the B Corp assessment and annual reviews, businesses can set and meet rigorous standards of social and environmental performance, accountability, and transparency.
The B Corp website suggests that "a B Corp is to business what Fair Trade certification is to coffee". With a growing community of more than 2,500 Certified B Corps from more than 50 countries all working toward one unifying goal – "to redefine success in business" – they could well be onto something.
So here goes: Who's B'ing the best?
It should be noted that in this ranking we've simply looked at the overall score. This makes it harder for very small organisations to feature, as plenty of extra points are available if you're an employer. The scores are out of 200, with 80 being the cut-off to be accepted as a certified B Corporation. If you're keen to know more, head over to the B Corporation Australia website.
5. U Ethical: Ethical Managed Funds (125.2)
U Ethical is not your usual investment manager. The firm is driven on 'investing with purpose' to improve the world we live in and challenge the way we make investment decisions. The firm's ethics-driven performance requires them to apply positive and negative screens to direct all investment decisions towards that vision. They proactively invest in clean energy, sustainable agriculture, recycling and reuse, employment, community and education services and healthcare. What makes this investment manager stand out from the rest is how they hold companies accountable and also how they raise environmental and social concerns about their investments.
4. Your Call Whistleblowing Solutions (126.7)
Your Call is a first of its kind in Australia. The service provides corporate whistleblower hotlines, online reporting, investigations and consulting. The business helps employees that want to speak out on unethical practices and misconduct at their firms when they are not comfortable with using internal channels. The firm recently became a B Corp because of the team's commitment to transparency about their operations and their dedication toward team member development, waste management and their involvement with charity.
3. Hepburn Wind (143.2)
Hepburn Wind runs Australia's first community-owned wind farm. Located at Leonards Hill in Victoria, the 4.1 MW wind farm which produces enough clean energy to power about 2000 homes. The project's primary goal is to create positive community change and drive environmental and social outcomes.
Hepburn Wind was listed in B Lab's Best of the World list across three categories: best for community, best for environment and overall. What sets Hepburn Wind apart from other projects is their community fund which funded 52 projects in the last six year, renewable energy generation and ability to help their community offset their carbon footprint.
2. Elkie and Ark (150.6 points)
Elkie and Ark is one of the more unique B Corps in our list. The company prides itself on not only using ethically sourced and natural organic materials, but ensuring that its 100% Fairtrade Cotton. Elkie & Ark also support rural and at risk communities around the world. 100% of their profits support community health projects, anti-trafficking, neonatal care, women's literacy and children's education.
1. Australian Ethical Investment (156 points)
And the winner of the most responsible businesses in Australia is… Australian Ethical Investment with a whopping 156.4 points! Australian Ethical Investment investing strategy ensures its outcomes benefit the community, biodiversity and the planet. The company strays away from businesses that harm animals, rear animals for live export, companies that exploit their workforce, mining and unsustainable forest logging. Their investing activity is guided by a tool they call the Australian Ethical Charter.
Money can be used as a force for positive change in our world. David Macri, CIO of Australian Ethical Investment said in this Investment Magazine article, "The industry wields a great deal of influence and power and we have a responsibility to do what we can for the future of our planet, and the future of our society as a whole. It is important to remember that in addition to providing our members with higher savings to fund their retirement, we are also helping to shape the world in which our members will be retiring."
As a B Corp ourselves, Good Business Matters believe in the need to move beyond financial profit and develop business strategies that also balance the needs of society and our planet.
Image credit: B Corp www.bcorporation.net