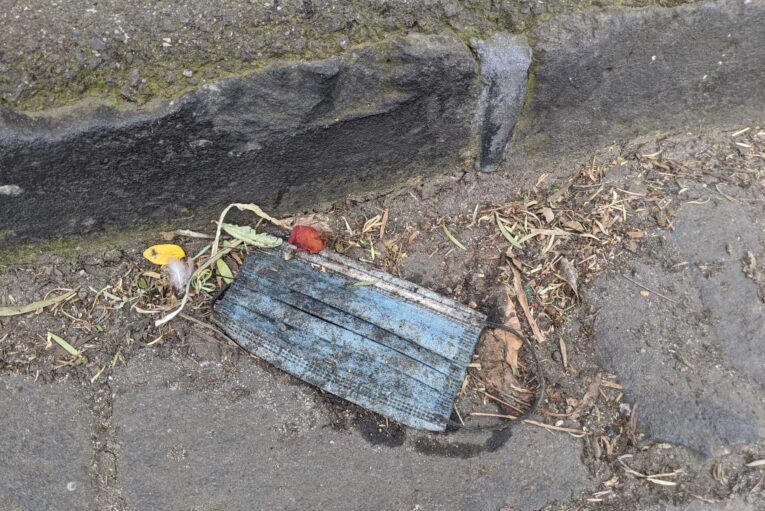 As the world ramps up production of disposable face masks and other protective equipment the planet is struggling to breathe. There's been a sharp increase in waste from personal protective equipment (PPE). Every month that passes under the COVID-19 restrictions, an estimated 129 billion face masks and 65 billion plastic gloves are used once and then thrown away. That's 17 masks for every person on the planet, every month to go with their 8 pairs of gloves, month in, month out. And 75% of this pandemic plastic is going to inundate us like a tidal wave.
Think about it for a moment. Disposable face masks, protective clothing, gloves, hand sanitiser bottles. Their production all requires plastic, fossil fuel based plastic. Disposable face masks contain polypropylene (PP), which acts as a protective layer against bodily fluid droplets and other nasties. Other more intricate and pricier face masks (such as the KN95) include polyurethane (PUR) and/ or polyacrylonitrile (PAN). These plastics have a lifespan of approximately 450 years, and can never fully degrade but rather shrink into small pieces called microplastics. These microplastics often end up in the food chain and ultimately on our dinner plates. Charming.
If this wasn't bad enough, medical professionals still rely heavily on PPE on a daily basis. We can't dispute the importance of protection during this time, however, with more sustainable technologies and products being developed it seems the medical sector should be able to do away with single-use plastics. A recent article from The Conversation stated that scientists are working extra hard during this pandemic to find alternatives to PPE.
Examples of these alternatives include:
The critical care decontamination system. This is a container made by a company in Ohio which can decontaminate up to 80,000 items of PPE at a single time.
Biodegradable gloves which can decompose in landfill.
The Reelshield flip. This is a face visor made from paper board and wood pulp cellulose, meaning it can be composted at home.
Only a transformation will pull us through
Although plastics provide important benefits to society there's an inherent need to keep it out of the environment and find ways to better meet our circular economy goals. We need a total system change to get this going.
Researchers believe that if governments and businesses came together to radically reinvent the global plastics industry with existing technologies, plastic waste could be reduced by 80% by 2040. A key thing to keep in mind is that the farther we push this agenda back, the more mismanaged plastic waste would enter the environment.
So why haven't we started? National Geographic reported that this overhaul would cost no less than $600 billion. However, this figure would still be relatively cheaper than running business-as-usual in the next two decades due to the reduction of reliance on oil in the production of single-use plastics.
Reusables are still safe
The increase of 'COVID waste' could lead to a new kind of pollution compounding an already existing plastic problem and further threatening our environment and biosecurity. As we've started building up waste from our takeaway orders and disposable masks, we must think about where this waste is going and how we can still actively use these materials during this time.
The three R's are still the heart of the solution. We can start right here. Remember? Reduce, Reuse and Recycle. We need to reduce our reliance on these plastics, all whilst finding new ways to use our plastics and recycle them as a last resort.
Fortunately, in June, a group of scientists, academics, and doctors from over 15 countries signed a statement reassuring retailers and consumers that reusable systems can still be used safely during the pandemic by employing basic hygiene and protective measures. Consider these simple precautions as we navigate our way through this pandemic:
Ensure all reusables are properly cleaned out prior to use (Yes, soap and water kill the virus).
Reusable bags should be stuffed in every corner of your car / house and even your go-to jacket's pockets. It's a good idea to wash them by hand or laundry in hot water whenever you do your load.
Cook more meals at home and if you are craving takeout, opt to purchase from a store that uses sustainable packaging.
Keep visiting your local bulk foods and BYO container shops. Shop staff will gladly assist you on filling jars; which can be kind of fun while helping these small eco-conscious businesses survive, good on you!